Singing with a Smile
Laughter and singing have always been important in Jewish life. Laughter expresses joy and alleviates tears and hardship: "Then was our mouth filled with laughter, and our tongue with singing" (Psalms 126:2). It also has many facets, from happiness and mirth to satire and mockery: "He that sitteth in heaven laugheth; the Lord hath them in derision." (Psalms 2:4)
When it was announced that a baby would be born to our very elderly patriarchs, both Sara and Abraham laughed, and their son was consequently called "Yitschak" [Isaac - he will laugh]. The significance of Sara's miraculous pregnancy and her laughter has been discussed in many Talmudic midrashim [homiletic exegesis]. A more modern explanation can be heard in the "medresh" of Yitschak's namesake, the Yiddish folk poet Itsik Manger, many of whose poems have been set to music. According to Manger, when Sara pleaded that her husband do something about having a child before it was too late, Abraham calmly quoted the Yiddish proverb, "Az der eybeshter vil, shist afile a bezem oykh" [When God wills it, even a broom can shoot]. (And he was proved right!)

Arik Einstein singing a Hebrew translation of "Abraham and Sara" by Itsik Manger

Many of Manger's wise and witty interpretations of Biblical characters, spiced with anachronisms and double-entendres, are preserved in song. His "Megile" tells the bitter-sweet Purim story through the eyes of Fastrigosso, the tailor apprentice, who is doomed by his love for the future queen Esther. Together with the tailors, we all make fun of the gauche King Ahashueros and dream of social upheaval.

"S'a mekhaye" from Itzik Manger's "Megile"

Yes - laughter is the weapon of the weak against the mighty, the minority against the majority. Purim, of course, is the epitome of reversal – "hafuch al hafuch" [topsy-turvy]; it is a festival which encourages our imagination to run wild – "chayav inish liv'sumei" [man's obligation to make himself "fragrant"] – as a means of coping with political frustration. The political character whom Sephardic Jews love to hate most is Zeresh, Haman's wife, who kindled and fostered her husband's malevolent instincts. Verse after verse of grotesque descriptions are gleefully sung about Zeresh's mental and physical ugliness.1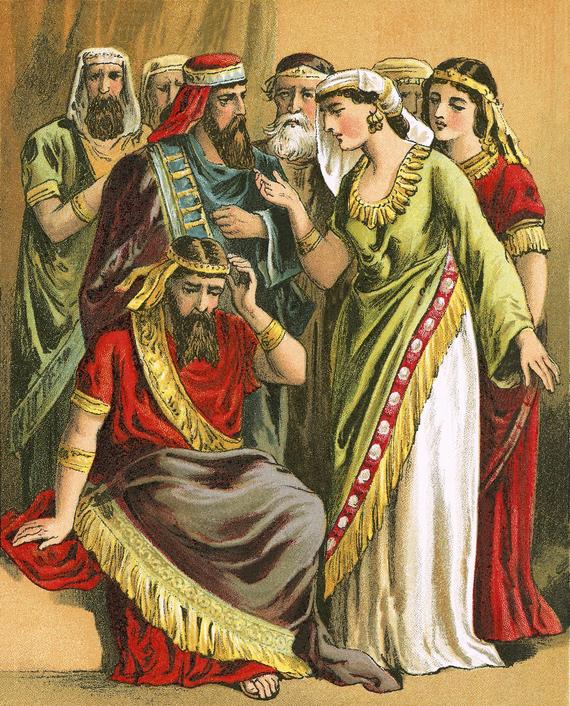 Scroll of Esther: Haman laying his complaint before Zeresh

Who else do the Jews laugh at (or with)? Well, we laugh at members of our family (especially mothers) and, of course, at in-laws (especially mothers-in-law), and at the innocence of newly-weds brought up in a cloistered environment. We also laugh at - or with - the "rebbes"2, without realizing that most of these "rebbe" songs began life as anti-Hasidic satires. 3 Besides the well-known Tshiribim Tshiribom (sung by the Barry Sisters, below), two of the many satires in this genre include Der filozof [The philosopher] and Der rebe elimeylekh. 4 The irony was often so skillfully woven into the texts that even connoiseurs failed to notice it: see Josh Waletzky singing and talking about Der heyliker moshiakh. 5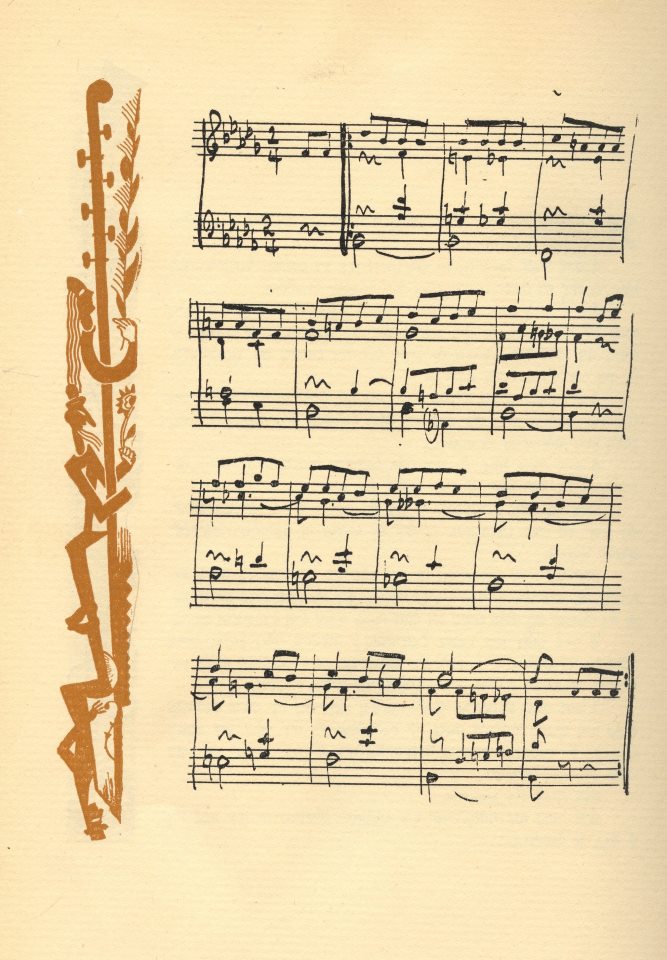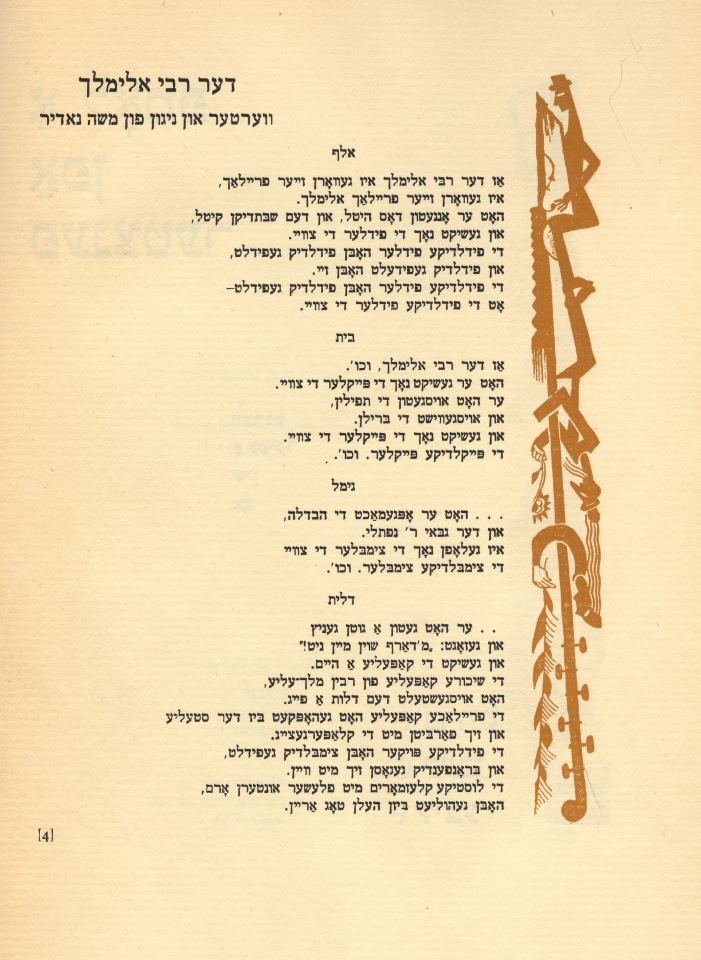 The original words and music to Der Rebbe Elimeylekh, from Moishe Nadir's collection "A lomp afn fentster" [A lamp in the window] אַ לאמפ אפן פענצטער (NY, 1929)



Both Sephardic and Ashkenazi Jews guffaw at "O sa sa" - actually two songs with completely different content but based upon the melody of a Bulgarian folksong.6 The Ladino song O sa sa mocks a pregnant neighbour, while the Yiddish song Hu tsa tsa is a string of jokes, open to endless variation.
Poverty is no reason not to laugh and hard work is no guarantee of riches – we know this from the ironic Melokhe melukhe [Work is wealth] and the many tailors' songs (e.g., Ot azoy neyt a shnayder [This is how a tailor sews]). We complain about the woes of destitution by singing gaily about how to make something out of nothing (Hob ikh mir a mantl [I had a coat] or Kartofl zup mit shvomen [Potato soup with mushrooms]). What else can you do but laugh when your father's out of work and the rabbi whips you, asks Gebirtig in Ver der ershter vet lakhn? [Who'll laugh first?] "Hunger is the best cook," says a Dutch proverb, and also the best "cookbook": we dream about dishes for the rich in contrast with scraps eaten by the poor, such as in the songs Lomir ale zingen [Let's all sing] or Alef-indikes [A is for turkeys]. Actually, the best way to deal with lack of money is to let somebody else pay, as we hear in the Sephardic mikveh song "Cuan bien me lavi" [When I wash myself"]!

Neither last nor least are the many thinly-veiled bawdy songs. Even rebbes and their wives suffered the effect of off-colour double-entendres.7 Not a crude word is actually uttered, but it doesn't take much of a feat of imagination to understand what is implied. Examples of these in the Sephardic repertoire are wedding songs8 as well as songs of dentists and tinkers who "take care" of their female clients (e.g., El encalador [The white-washer] or Las muchachas de servir [The maid-servants]).9 Tradesmen also visited Ashkenazi ladies, at least in New York! In the song Ikh bin a border bay mayn vayb [I'm my wife's boarder], the narrator says that one of the advantages of being divorced is that he no longer has to worry about the butcher visiting his wife! (There is also a Ladino version of "el bordo" [the boarder])!10 We learn about the amorous ambitions of boarders - facilitated by a "sweet treat" - from the American Yiddish theatre song Hudl mitn shtrudl [Hudl with her strudel].
Humorous folksongs about unfaithful wives cross ethnic communities – witness the Yiddish songs "Dos daytshl" [The German guy],11 "Gey ikh mir arayn tsu mayn gelibter froy" [I go to my beloved wife]12 and "Di milkh-ku" [The milk cow], songs which are reminiscent of the Scottish ballad "The Goodman" (Child's Ballad #274). A Sephardic equivalent is the romansa "La adultera / Un lunes me alevanti"13 [The adulteress / I woke up one Monday morning] in which the wife's lover is caught out sneezing! The moral, says the cuckolded husband, is to watch over your wife carefully, especially if she is good-looking!

When mustn't we laugh? On Tisha b'Av (the 9th of Av), the saddest day in the Jewish year, marking many tragic events in Jewish history. One of the endechas [laments] that are sung traditionally by Sephardic Jews is a "lament" for a dead cat, "Señor Don Gato" – a funny children's song. It has to be sung solemnly because "if you laugh on Tisha B'av you will weep on Rosh Hashanah [New Year]".7
The adage tells us that "When you laugh, the world laughs with you; when you cry, you cry alone" (Ven du lakhst), which is why rabbis, as well as doctors, tell us to be happy: Der rebe hot geheysn freylekh zayn! 14 But as we all know, it is God who has the last laugh: "Mentsh trakht, un got lakht" – "Man proposes, and God disposes". The best we mortals can do is to come along to the musical lecture and "sing these songs with a smile".
* * * * *
Notes and References
1 See Complas de Purim: "These are the troubles of the old woman" - אלה צרותיה של הזקנה. The name "Zeresh" is an acronym in Hebrew for Zonah - Resha'ah - SHikorah [Prostitute - Wicked woman - Drunken woman]. The copla is translated into Hebrew in the book (in Hebrew) by Shmuel Refael (2004): I Will Tell a Poem: A Study of the Judeo-Spanish (Ladino) Coplas. [אספר שיר]. Carmel Publications, Jerusalem.
2 Philologos. (2003). Rav, rebbe, rabbi. The Jewish Daily Forward.
3 Philologos. (2000). In mockery lay their envy. The Jewish Daily Forward.
4 Levin, N. A singing of angels. Milken Archive of Jewish Music. This article includes an extensive discussion on the origins of the song "Der Rebe Elimeylekh (Elie)" and, also, a good survey of Jewish folksong.
5 See more about anti-Hasidic songs on Yiddish Song of the Week.
6 Weich-Shahak, S. (2006). En buen siman! Pardes. P.156.
7 See, for example, the spoof on "Sha, sha, der rebe geyt" [Quiet, the rabbi's going], which itself is an anti-Hasidic song (also entitled "Oy, di rebetsin") criticizing the overbearing attitude of the rabbi's wife. Similar to this is the Hebrew version of "Tshiribim" by the Gashash Hachiver trio.
8 Cohen, J. (1987). The lighter side of Judeo-Spanish traditional song: Some Canadian examples. Canadian Journal for Traditional Music.
9 According to the article (in Hebrew) by Rivka Havassy (2010), "From the dentist to the tinsmith" [בין רופא השיניים למתקן הסירים - איל פריזינטי, כרך ד, תשע"א], there are a quite a few of these songs with thinly-veiled erotic allusions. In English there's a bawdy ballad entitled "The German clockwinder", and the unforgettable "Goodness gracious me!" with Sophia Loren and Peter Sellers is based on the same idea.
10 The Yiddish title "Ikh bin a border bay mayn vayb" [I am my wife's boarder] has been adapted into a Ladino song "Cayo bordo con mi mujer" [I've become a boarder with my wife], but the storyline has been changed. (The words "border" and "bordo" are respective transliterations of the English word "boarder"). In the Yiddish version, the divorced husband sings happily about the advantages of being a boarder. In the Ladino version, the husband is unhappily shunted aside, while his former wife takes up with the boarder! A truncated version of the song - "El viejo era rico" [The old man was rich] - has been recorded by Spanish folklorist Joaquín Díaz. The Ladino song was found in a collection studied by Dr. Rivka Havassy (2007): "The Ladino Song in the 20th Century: A Study of the Collections of Emily Sene and Bouena Sarfatty-Garfinkle", Doctoral dissertation, Ramat Gan, Bar Ilan University (in Hebrew).
11 Gottesman, I. "It's not just any German being made fun of here, but a German peasant or farmer. The Germanisms also imply that such a song about a cuckold would 'never' be sung about a Jewish husband and wife." [Commentary on "Dos Daytshl"]
12 Rubin, R. (1973). Voices of a people: The story of Yiddish folksong. C.17: "Folksong - A universal language".
13 Maoz, Batya. (1981). "The romansa of the Sephardic Jews from Turkey and the Balkan countries" (in Hebrew): פעמים, כרך 7 הרומאנסה של היהודים הספרדים מתורכיה ומארצות הבאלקאן. This romansa is related to the pan-European genre of night-visiting songs: in one of the many versions, it is the lover of a young girl - not a married woman - who comes a-knocking at the door. A shortened version is the song Burdjula, recorded on Isaac Levy's "El Kante de una Vida" [The Song of a Life].
14 A Yiddish proverb says, "Lakhn iz gezunt; doktoyrim heysn lakhn" [Laughing is good for you; doctors prescribe laughter]. The melody of the song Der rebe hot geheysn freylekh zayn [The rebbe has told us to be happy] is also used for other songs: Tantzt, tantzt, yidelekh; Reb dovidls nign and Yoshke, ma yofus. (The Shabbat zimrah "Ma yafit" or "Ma yofis" [How beautiful you are] has a history all of its own).
Related Information on the Web
See sources on Jewish Humour on my Purim page
Mirsky, Y. (2011). Manger's M'gilah, and Ours. Jewish Ideas Daily.