Hanukkah - A Feast of Lights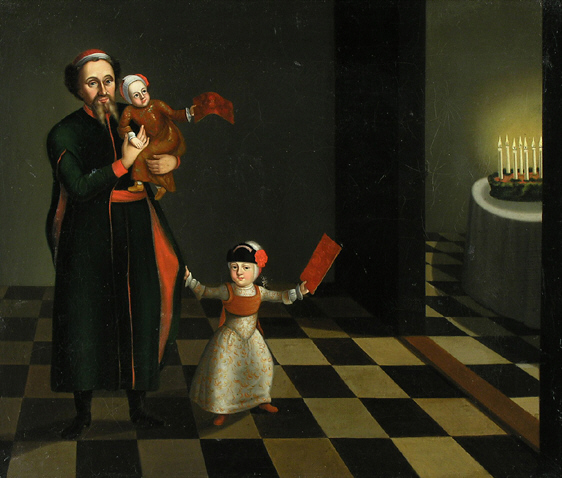 "Hanukkah, 18th century" - Anon.
Oy khanike, oy khanike, a yontev a sheyner / A lustiger, a freylekher, nito nokh azoyner!
[Hanukkah, Hanukkah - a lovely, happy, joyous festival: there's no other like it!]
Ruth Rubin singing, accompanied by Pete Seeger
* * * * *
More songs have probably been written to celebrate Hanukkah than any other Jewish festival. Whatever the reasons for the enduring popularity of Hanukkah, its music provides us with a fascinating insight into Jewish history and culture. Here are two medleys of Hanukkah songs: children's songs, performed by Hani Nachmias & Uzi Hitman, and a medley performed by the "Nigunim Chorus", including songs in Ladino and Yiddish and "Ma'oz Tzur" by Venetian composer Benedetto Marcello. (Listen to different versions of Ma'oz Tzur here).
* * * * *
Hanukkah quizzes are a favourite way of teaching about the festival. Here are two: the first based directly on popular Hanukkah songs, and the second requiring a little bit of Internet research:
QUIZ #1: Here are eight questions - one for each light - representing various Hanukkah themes. (Here is a Word file of the song lyrics).

1. Which messages do Hanukkah lights convey?

2. Which popular Hebrew songs were originally written and sung in Yiddish?

3. Which two famous American folksingers, one Jew and one non-Jew, wrote original Hanukkah songs in English?

4. How do you count up to 8 in Ladino?

5. Which heroines are remembered on Hanukkah?

6. Which special foods are eaten on Hanukkah? (Hint: they're all SOAKED in oil!)

7. What is the message borne by the Hanukkah spinning-top (dreydl, sevivon)?

8. Besides lighting candles and playing with the top, which other Hanukkah customs do Jews around the world observe?
* * * * *
QUIZ #2: Here's another quiz requiring a little Internet research. (Some of the articles cited below are connected with the questions above, and will provide you with deeper insights into the Hanukkah festival, its customs and its songs).


1. What, exactly, was the Hanukkah miracle?
For interesting insights into historical sources, look at these articles:

♦ Dolansky, S. The truth(s) about Hanukkah. Huffington Post, 2011.
♦ Rosenberg, S. G. The First Word: Shedding light on the Hanukka story. The Jerusalem Post, December, 2005.
♦ Rosenberg, S. G. What miracle of the oil? The Jerusalem Post, December, 2007.
♦ Strassfeld, Michael. What's Hanukkah?


2. "Candles" and "flames" are concepts which lend themselves readily to metaphor. How are these terms treated in Jewish sources and thought?
As we read in the Book of Proverbs, "the candle of God is the human soul." (Mishlei [Proverbs] 20, 27). Here are a couple of articles which develop this idea:
♦ For Chanukah: The Kabbalah of Candle Light
♦ Safran, Eliyahu: Jewish Candles: The Power of Discernment. The Jewish Press.
♦ Chanukah: Of Lights and Man. Iyyun: Center for Jewish Spirituality
These ideas are also expanded to include the pursuit of social justice, the Jewish ethical value of which is embodied in Tikkun Olam [world repair].

3. What's so special about the hanukkiyah?
The menorah may be regarded as a "laser beam through Jewish history":
Ghert-Zand, R. 7 facts about menorahs, the most enduring symbol of the Jewish people. The Times of Israel, December 2016.
Have a look at the endless array of hanukkiyot at the following sites:
♦ Jewish Heritage Online
♦ Israel Museum
♦ The Jewish Museum
♦ Gallery Judaica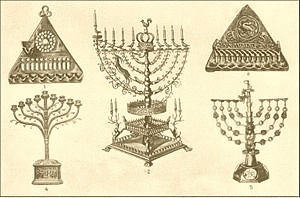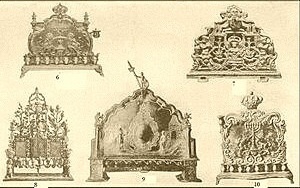 [Jewish Encyclopedia, 1901-1906]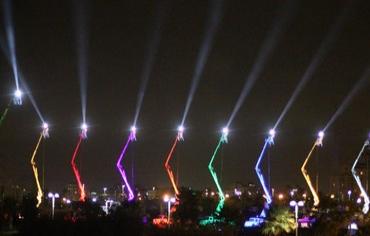 World's largest Hanukkiah, Tel Aviv, 2013

4. What are the stories behind Hanukkah games and customs around the world?
Spinning-top (dreydl, sevivon):
♦ Dreidel. Wikipedia.
♦ Golinkin, D. The Origin of the Dreidel. My Jewish Learning.
♦ Kutzik, J. (2015). Our Favorite Hanukkah Toy Was Actually a Non-Jewish Irish Gambling Game. Forward.
Hanukkah Gelt
♦ Segal, E. From Gelt to Gifts.
♦ Tameanko, M. The Original "Chanukah Gelt". American Israel Numismatic Association.
♦ Why do we give Hanukkah gelt and Hanukkah presents? Schechter Institute - Responsa.
Customs around the Jewish World
♦ Evolving Traditions: Chanukah. Reprinted from Tikkun: A Bimonthly Jewish Critique of Politics, Cultre & Society.
♦ Sephardic Customs. Midrash Ben Ish Hai
♦ Chanukah around the world: Celebrating Chanukah "by hook or by crook"

5. What are the stories behind some of the Hanukkah songs?
Hebrew speakers will love this fascinating video of the stories behind the songs, produced by Eliahu Hacohen.
♦ "Hava narima" - "See the Conqu'ring Hero Comes"
Read a fascinating background to the oratorio "Judas Maccabaeus" in "Getting a Handel on Hanukkah", by Eliezer Segal. (I also recommend "Around the Calendar" - Segal's other articles about Jewish festivals).

♦ "Nerotai haze'irim" - "O, ir kleyne likhtelekh"
Article in Hebrew by Eliahu HaCohen about Yiddish and Hebrew versions of "My Little Candles"

♦ "Maoz Tsur Yeshuati" (Versions: Traditional; Slonim Hasidim; Breslav Hasidim; Marcello; Morocco; Bukhara). Read about the hymn here: My Jewish Learning; OzTorah; YUTorah Online; Cantor Elihu Feldman; Chazzanut Online
"Maoz Tzur Yeshuati"

Slonim Hasidic version

Breslav Hasidic version

Moroccan version

Marcello version - begin at 4:19 (Here is a variation on this version).

Modern jazz rendition of the traditional version
♦ "I have a little dreydl": There are two different but similar versions of this song - one in Yiddish, Ikh bin a kleyner dreydl, by Mikhl Gelbart and one in English, by Samuel Grossman. The melody was presumably written by Samuel Goldfarb (whose brother, Israel Goldfarb, wrote the well-known melody to "Shalom Aleichem"): see the article by Albert Stern entitled "The hidden history of 'I have a little dreydl'". (The Times of Israel, 2016). The dreydl in the Yiddish song is made of lead, and that in the English song is of clay. In today's ecumenical Hanukkah-Christmas-Kwanza spirit, the little spinning top can be made of just about anything - the video below includes a few examples!
♦ "Drey Dreydl": Here is a great Hanukkah song written and sung by Moyshe Oysher. Which well-known Yiddish song has the same melody? (Clue: lyrics by Itsik Manger). The answer is here.

6. What are some Hanukkah recipes around the world?
Look up the pages "Ashkenazi Food" and "Sephardic Food" for songs associated with Hanukkah food.
♦ Hanukkah Food
♦ Brook, D. & Schwartz, H. Another Miracle of Chanukah [vegetarianism]
♦ Davidson, Nancy. A Sephardic Chanukah. New York Sun, November 28, 2007
♦ Dickerman, S. Sephardic Jews' Hanukkah Treats Have a Rich History, Too. The Seattle Post-Intelligencer.
♦ Griffin, P. From Latkes to Bimuelos, Hanukkah's Foods are Most Delicious. Knight Ridder/Tribune Business News
♦ Appelbaum, Y. Everything you know about Latkes is Wrong. The Atlantic.
♦ Bar-Noy, E. משוחה בשמן: ההיסטוריה המפתיעה של הסופגנייה. Beit Avi Chai, 2016 [really interesting article for Hebrew readers]

7. What about Hanukkah humor?
♦ Jacob Richman
♦ Humor matters
♦ Gilbert & Sullivan-style latkes by the Maxwell St. Klezmer Band
♦ Tom Lehrer
♦ Adam Sandler's Hanukkah songs - "When you feel like the only kid in town, without a Christmas tree, here's a list of people who are Jewish, just like you and me!": Original Chanukah Song; Chanuah Song #2; Chanukah Song #3

8. Is Hanukkah (sub)merging with other winter festivals?
♦ Ephross, P. How Hanukkah entered American mainstream. Jewish Daily Forward, November, 2013.
♦ Thanksgivukkah; Chrismakkuh; Hanukwanzmas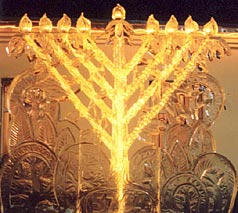 [Krasnoyarsk Ice Menorah]
* * * * *
HANUKKAH SONGS
The songs featured in this lecture (Lyrics)
Lists of song sites and CD's (English, Yiddish and Ladino)
(See Hebrew section for lists of song sites and CD's in Hebrew)
Nice page of links which are "Way Too Cool"
---