Jewish Musical Heritage
This page contains brief surveys of the topics dealt with in the lectures, with links to more detailed information. It's a resource for "couch potatoes" - everything you'd want to learn about Jewish folk songs (particularly in Yiddish and Ladino) without leaving your computer!
I've tried to find relevant videos and online sources, and would appreciate your letting me know if you find any errors of fact or omission.
You might also like to visit the pages on Pictures of Jewish Life and Jewish Festivals.
If you live in Israel, come along to the lectures! Plenty more information and, most importantly, lots of good music!
* * * * *
A. Jewish Music
A 1. Jewish folk songs

specifically Jewish content, such as reference to Jewish festivals, the Jewish life cycle, or Jewish concepts


inclusion of Jewish idioms, phrases and proverbs


reference to Jewish texts, especially the Bible


reference to Jewish historical events


Jewish musical characteristics


Jewish poets and composers


singing of national genres in Jewish contexts (e.g., romansas functioning as Jewish lullabies)


specifically Jewish text-types and genres (e.g., piyutim, coplas)


singing (or composing) Jewish texts to (gentile) folk melodies


life in the Diaspora (love, work, poverty, etc.)
References
Idelsohn, A. Z. (1967). Jewish Music in its Historical Development. New York: Schocken Books.
Shiloach, A. "Folk Music". In "Music". Encyclopedia Judaica, 2nd edition.
♦ Recommended online articles dealing with Jewish music and folksong.
♦ Recommended websites dealing with Jewish music and heritage.
A 2. Musical foundations
Is there a distinctively "Jewish" sound in Yiddish or Ladino music?
A 3. Borrowing of texts and music
The question "Why should the Devil have all the good music?" was ostensibly asked by Martin Luther in defense of the practice of contrafacta, i.e., the setting sacred texts to the tunes of secular songs. Although there is no documentary evidence for this actual remark, the Church in the Middle Ages regularly borrowed music or texts from secular sources for use in religious contexts, such as the Protestant (Lutheran) chorales.
B. Ladino Folk Songs
Many people have the idea that Ladino folk songs are archaic and romantic. Perhaps this feeling stems from the aura of mystery surrounding the word "romansa", which is the Spanish word for "ballad". * While there are a large number of romansas in the Sephardic song repertoire, it was the texts that were preserved from the Middle Ages, not the music; the melodies to romansas which are known today date from a much later time. In actual fact, the secular Ladino repertoire consisted, besides the romansas, of a large number of songs (cantigas), both old and relatively recent, stemming from many different origins: Spanish lyric songs, Greek and Turkish popular songs, western European dance songs, etc. Coplas, which are related to a large extent to Jewish festivals and the life-cycle, are discussed in the section on paraliturgical songs.
* Many disks of Ladino songs are misleadingly entitled "romansas" or "ballads". Here are three of them:
Yehoram Gaon: Romantic Ballads from the great Judeo-Espagnol Heritage
Francoise Atlan: Romances Sefardies – Sephardic Songs
Ensemble Accentus: Sephardic Romances – Traditional Jewish Music from Spain
B 1. Romansas
While set against exotic backdrops, the ballads served as prototypes by means of which to explain human behaviour and present ethical values. They were normally sung unaccompanied by women while lulling their children to sleep or carrying out household tasks, and at such life-cycle events as the elaborate preparations prior to weddings. Part of the function of the romansa in Jewish life was to pass on cultural values. For example, at the beginning of Lavaba la blanca ninya [The fair young maiden was washing], a ballad which tells about the return of a soldier after seven years at war, a young maid (who turns out to be his wife) is seen washing clothes. This ballad was sung by Jewish women while washing the wool to be used in preparation for the bridal gown. The message implicit in the ballad is that a Jewish wife is expected to be faithful to her husband, whatever the circumstances. Expanding the analogy even further, the seven years of waiting could also be interpreted as yearning for the Shabbat day, or as representing the long years of exile from both Spain and Jerusalem. (Other romansas on the same theme are La vuelta del marido [The husband's return] and Arbolera, arbolera [Tree, tree]).
B 2. Cantigas and other traditional songs

B 3. Ladino songs in the twentieth century
The first few decades of the twentieth century constituted a fertile time for writing texts based upon the melodies of local popular songs. In Salonica, the song-writing team Sadik and Kazez wrote social satire based upon songs which were the rage in Greece; these were published in Ladino journals, and had a wide following (Havassy). Social satire addressing problems of the community, for example, that of inter-marriage, was sung to the tunes of popular ballroom dances which came from Argentina, western Europe and the US - the tango, foxtrot, pasadoble and Charleston. The words of these songs in Ladino were often plays on words of translations of the originals into the local vernacular. Songs were also sung in Haketia (the Moroccan Ladino dialect) to Berber melodies, criticizing the moral laxity of ladies wearing the latest fashions!
B 4. Moving away from the Diaspora
As Sephardic Jews moved to Palestine from the beginning of the twentieth century, they brought their folk songs along with them. The first attempts to bring them to the attention to the western public was in the 1930's by singer Bracha Zefira, who heard the songs from the Sephardic community in Jerusalem and recorded them as art songs in conjunction with song-writer Nahum Nardi and composers of Israeli classical music. In 1955, the Ladino section of Radio "Kol Israel" was opened under the direction of song collector and singer, Isaac Levi, which allowed for the popularization of Sephardic songs in new arrangements. Two singers of Sephardic descent who attained national fame in the 60's were Avraham Perrera and Yehoram Gaon, the latter starring in the concert performance of "Romancero Sephardi" by Itzhak Navon in 1968. Navon, president of Israel from 1978 to 1983, has always been particularly concerned with preserving Sephardic heritage. In 1969 he wrote the musical "Bustan Sephardi" [The Sephardic garden], a musical based upon the songs in the collections of Isaac Levy and dealing with the life of a Sephardic neighbourhood in Jerusalem. It was very popular during the 1970's, and the revival in 1998 has proved to be even more popular than before. Since the commemoration in 1992 of 500 years since the expulsion of the Jews from Spain, Ladino songs have become enthusiastically acclaimed by Jew and non-Jew, Sephardic and Ashkenazi, all over the world.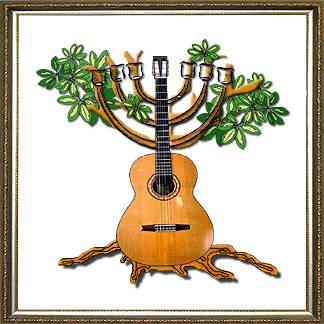 C. Yiddish Songs
C 1. Folk songs
Yiddish songs of the nineteenth century were influenced by a number of different trends. While followers of the various Hasidic courts continued to sing nigunim at their rebbe's tish [table], they were opposed vehemently by leaders of the Haskalah [Enlightenment] movement, who countered by singing satirical songs criticizing the blind faith of the Hasidim in their miracle-working rebbes. Secondly, as poverty forced both men and women to work interminably long hours as apprentices and eventually to leave the shtetl and work in factories, new genres of worker songs and, subsequently, songs of worker struggle were created. Underworld songs of thievery and prostitution were sung in Moscow, Odessa, and in cities across the world such as Buenos Aires. More lamentations were sung as men went overseas in search of a new start, leaving their wives as agunot ["chained" women] to fend for themselves and their families.
Two good online surveys of Yiddish song are Chana Mlotek's entry, "Folk Songs", in the YIVO Encyclopedia of Jews in Eastern Europe, and the entry on "Music" in "Culture" (YIVO Institute For Jewish Research, 2004). "Amol iz geven a mayse" - "Once Upon a Time: The Story of Jewish Life in Eastern Europe based on Jewish folk Songs" - was a program presented in the 1950's by the Workmen's Circle in New York. Listen here to the narrative in Yiddish by Joseph Mlotek, with songs sung by Sidor Beloarsky and Masha Benya.
The Zemerl database includes the words and English translations of many popular Yiddish songs, and the Robert and Molly Freedman Jewish Sound Archive is a wonderful resource listing recorded Yiddish songs.

References
Slobin, M. (Ed.). (2000). Old Jewish Folk Music: The Collections and Writings of Moshe Beregovski. Syracuse University Press.
Idelsohn, A. (1967). Jewish Music in its Historical Development. New York: Schocken Books.
Rubin, R. (2000). Voices of a People. Urbana, Ill. : University of Illinois Press.
C 2. Composed songs
The composing and performance of folk poetry at Jewish weddings had traditionally been carried by the badkhn [jester], whose task was to entertain the wedding couple and guests with anecdotes and riddles. (Klezmer music essentially developed as accompaniment to the wedding ceremony; it is an instrumental genre, and thus not dealt with specifically in these lectures, although modern klezmer performance is closely associated with the singing of Yiddish songs). A direct ougrowth of the badkhn tradition were the Broder brothers, from Brody in the Ukraine, itinerant "troubadors" who were among the first to compose and perform Yiddish-language songs and who were precursors of the Yiddish theater established by Goldfaden in Jassy, Romania, in 1876. A particularly well-known member of the Brody troupe was Velvl Zbarzher (1824–1884), who composed "mini-melodramas in song" describing topical events and injustices and making fun of the Hasidic Jews. He has been described as "a real folk-poet" whose songs, two decades after his death, were still sung by the Jewish masses of Galicia and southern Russia. Another "minstrel" influential in developing the badkhn tradition was Eliakum Zunser (1836-1913), who eventually founded a school of badkhanim in America.
The songs "Rozhinkes mit mandlen" [Raisins and almonds] and "Oyfn pripetshik" [At the hearth] are thought of today as quintessential Yiddish folk songs. In fact, Rozhinkes mit mandln was composed by Abraham Goldfaden (1840-1908) for his operetta "Shulamis" and based on the folk lullaby "Untern kinds vigele" [Under the child's cradle]. Goldfaden, father of the Yiddish Theater, wrote operattas on themes encompassing Jewish tradition, Enlightenment and Zionism. A contemporary of Goldfaden was Mark Warshavsky (c.1840-1907), a lawyer from Kiev whose book, "Judische Volkslieder", was enthusiastically endorsed by popular author Sholem Aleichem. The song "Oyfn pripetshik", along with many others in the collection, attained instant "folk" status, and has remained popular ever since.
Perhaps the most beloved of all "folk" composers was Mordechai Gebirtig (1877-1942), from Krakow, Poland, best known for his song, "Es brent" [It is burning], written in 1938 in response to the 1936 pogrom of Jews in the shtetl of Przytyk. Like Warshavsky, composing was an avocation rather than a livelihood, and his first collection of songs was likewise entitled "Folkstimlekh". His songs – for example, "Kinderyorn" [Childhood years] and "Reyzele" – were popular with Jewish people the world over, winning the esteem of such well-known personalities as American actress Molly Picon. Gebirtig has been called "der zinger fun der umgekumener yidisher mase in poyln" [the singer of the murdered Jewish masses of Poland]: he wrote many songs about the Holocaust and was killed in the Krakow ghetto on "Bloody Thursday" of June 4th, 1942.
Note: The klezmer band "Budowitz" has made a very interesting attempt to recreate a traditional Jewish wedding in "Wedding without a Bride". (Scroll down for information about weddings). Here is an account of the way this project came about, and the information that English folksinger Majer Bogdansky supplied about the role of the badkhn.


C 3. Yiddish songs in America
[coming soon]
C 4. Yiddish Songs in the Soviet Union
D. Holocaust songs
Songs were an important part of life during the Holocaust, despite, or perhaps because of, the horrific circumstances. There were "lullabies, work songs, satirical songs and ballads, prayer songs, songs of pain and anguish, shame and humiliation, songs of ghetto life, concentration camp and death camp songs, songs of courage and heroism, bitter hatred for the enemy, songs of faith and hope, struggle and joy in victory. Almost entirely absent are the songs of normal times: love and marriage, children, joy in work and study, humor and merriment. The occasional drinking and dance song has the macabre quality of the seventeenth-century dance of death; the rare love song pines away beneath the gray ghetto walls, yearning for the sight of a green blade of grass and a bit of blue sky. Created by the whole people, both by the educated and untutored, the songs contain elements of fine poetry side by side with primitive folkloric rhymes. Through all the songs, however, there flows the single-minded will to live, to survive, to preserve wherever and as long as possible every vestige of dignity, self-respect, the traditions and customs cherished for centuries, the precious habits of learning and teaching, the creative urge to write, sing, and even put on plays and concerts!" (Rubin)
Songs were sung in the ghettos, camps and partisan forests - e.g., the famous partisan song by Hirsh Glick, "Zog nit keynol az du geyst dem letzten veg" [Never say that you are treading the last path], which was composed in Vilna, quickly disseminated throughout the ghettos and camps, and associated most closely with the Wasaw ghetto uprising of 1943. At the extermination camps, prisoners were forced to play in orchestras for the Nazis' entertainment and while prisoners were marched to the gas chambers. But singing was also a survival strategy, helping to dignify humanity despite the dehumanizing effect of the extermination policies. Familiar songs took on especially significant meanings, as, for example, when "Ani ma'amin" [I believe], an expression of the basic tenets of Jewish faith set to music by the Modzhitz hasidim, was sung on a train carrying prisoners to their death.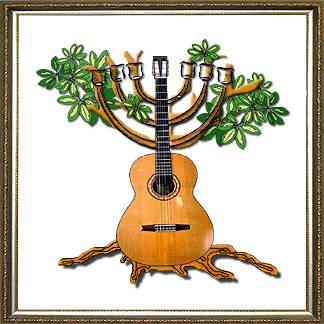 E. Paraliturgical songs
Paraliturgical songs are those which are sung at the very many events associated with Jewish religious life. They include songs associated with life-cycle events – birth and circumcision, childhood and adolescence, betrothal and wedding, death and mourning; with Jewish festivals – family table songs, and songs associated with particular festivals such as the Pesach seder or the Purimspiel; with hillulot [festive rejoicing] associated with the tombs and communities of holy rabbis as well as Hasidic songs sung at the rebbe's tish [table]. They encompass songs of different genres which often cut across the division between synagogue and non-synagogal songs, they are sung in Hebrew as well as Jewish languages of the diaspora, and they encompass different styles of performance – men's and women's songs and songs with or without instrumental accompaniment.

E 1. Religious poetry in Hebrew

Central to paraliturgical songs is the genre of the piyut. These are liturgical poems in Hebrew, which are included in regular synagogue services, e.g., "Adon Olam", or as supplementary sets of worship related to particular periods of the year, e.g., bakashot (songs of supplication) or selichot (lamentations). Piyutim are sung as zemirot (table hymns) by the family on Shabbat and festivals as well as at family lifecycle celebrations, and are thus regarded as both a paraliturgical as well as liturgical genre. Piyutim which were written in the Spanish Golden Age have been adopted by all ethnic groups, each of which has its own musical style; later piyutim are respectively associated with the communities in which they were written: Safed, Yemen, Tunis, Morocco, Aleppo and western Europe (Ashkenaz). Rabbi Israel Najara (15550 – 1620) has been mentioned above. He was particularly gifted at adapting Hebrew texts to the Turkish, Arabic, Spanish and Greek folk music of his time.
In very general terms, piyutim sung by Sephardic and Eastern communities follow the makam modal system, while Ashkenazi melodies are governed by shtaygers. Nowadays, piyutim are entering the sphere of popular music and an Israeli musical style (exemplified by Shlomo Bar or Eti Ankry) is slowly evolving. I highly recommend the website "An Invitation to Piyut", at which you can read information about particular piyutim and about religious song in general, and, most importantly, listen to multiple melodies of a particular poem.
Zemirot (pronounced zmires in Yiddish) are piyutim sung at Shabbat and festival meals which describe the customs, obligations and joys of celebrating Shabbat. (In the Sephardic synagogue tradition, the term zemirot also refers to the preliminary section of psalms and biblical verses recited during the Shacharit [morning] prayers). On Shabbat, there are three sets of zemirot for the corresponding three meals: those sung for the Friday evening meal, the Saturday noon meal, and the third meal just before sundown on Saturday afternoon. The zemirot are mostly in Hebrew, but there are also a few in Aramaic. Melodies are often borrowed from the surrounding musical environment, as is illustrated in the first lecture whereby the melody for the zimrah "Tsur mishelo achalnu" [Rock from whose (food) we have eaten] comes from the Ladino cantiga "La rosa enflorese" [The blossoming rose] (or "Los bilbilikos" [the nightingales]). Hasidic dance tunes and Jewish melodies serving other functions have also been used. Altogether, singing zemirot is a popular activity, and new tunes are constantly being composed.
References:
Shelemay, K. (1998). Let Jasmine Rain Down: Song and Remembrance amoung Syrian Jews. University of Chicago Press.
Shiloah, A. Jewish Musical Traditions. Detroit: Wayne State University Press. C.5.

E 2. Coplas
Stylistically, the coplas are strophic poems following a few set patterns. They are basically a male genre, initially because written collections of poems were inaccessible to women who were generally illiterate; women who did sing coplas attributed their knowledge to having heard a male member or close friend of the family. Besides the written collections, the coplas were also passed down orally by singing original melodies or ones borrowed from earlier Hebrew piyutim (the melodies of which in turn were borrowed from Turkish songs).
References
Refael, S. (2004). I will tell a poem. Carmel. [In Hebrew]
Weich-Shahak, S. The Coplas. In Romancero, Coplas and Cancionero: Typology of the Judeo-Spanish repertoire. Part II. The National Library of Israel.
Weich-Shahak, S. (2006). En buen siman. Pardes. [In Hebrew]

E 3. Hasidic songs and the Hasidic nigun
The 18th century Hasidic movement, founded by Rabbi Israel Baal Shem Tov (the Besht, 1698-1750) believed in the supreme importance of the nigun [melody] as a form of prayer: "There are gates in heaven that cannot be opened except by melody and song" (attributed to Rabbi Shneur Zalman of Liady, founder of Chabad). The nigun was believed to lead to devekut [communion with God], and singing and dancing were the means of spiritual elevation accessible to ordinary folk as well as the most spiritual tsadikim [saintly people]. While many of the nigunim were sung at the Rebbe's tish [table] as Shabbat zemirot or brief texts from the prayerbook, a large number were sung without words at all. One of the basic characteristics of nigunim from a musical point of view was legitimizing the use of using gentile melodies. This is embodied in the tale of Hungarian Hasidic Rabbi Eisik Taub whose nigun was acquired from a shepherd and subsequently lost to the original owner. Various versions of this tale are told here; the Hungarian folktune from which the Hasidic song derived is "Szol a kakas mar" [The rooster crows in the morning], and the song "Ya'ar, ya'ar" [Forest, forest] (sometimes known as "Royz, royz") was included in the play "Ish Hasid haya". Another tale demonstrating the priceless value of the nigun is told here by storyteller Penina Shrem. (There are many musical versions of this story: here is Chava Alberstein singing a Hebrew version; a Yiddish version is entitled "An alter nign" [An old melody]).
Hasidic melodies have influenced Israeli music from the earliest days of the chalutsim [pioneers]: read Yaakov Mazor's very interesting article (in Hebrew) on how Hasidic melodies entered the early Hebrew song repertoire.
Nowadays, the term "Hasidic music" conjures up such songs as "Yisrael Yisrael", "Esa einay", "Am Yisrael chay", and countless other songs based upon the prayer book and Bible, particularly the Psalms. These are folk songs in the truest sense: Jews around the world, whatever their age or standard of religious observance, know the words or at least can hum along to the melodies.
The Hasidic niggun as sung by the Hasidim. The Hebrew University of Jerusalem: Jewish Music research Centre.
Regev, M. & Seroussi, E. (2004). Popular music and national culture in Israel. University of California Press. C.6: "And the winner is …" Popular song festivals
Cohen, R. Reb Shlomo: Jewish soul man. Moment, 1997.
Weiss, S. (2009). Carlebach, Neo-Hasidic music, and current liturgical practice. Journal of Syangogue Music, v.34.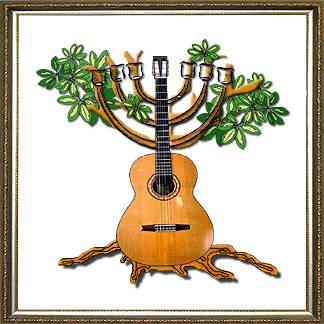 F. Contemporary Jewish Folksongs and Folksinging
Do songs sung in a particular language have a raison d'etre when that language is no longer the vernacular, and do songs which grew out of an environment shaped by the Diaspora have a place in a Jewish homeland? The lectures, and this site, refer mainly to songs in Yiddish and Ladino, but the questions are relevant to songs sung in any language of the Jewish Diaspora. The answers differ with respect to language, country and community. It is a truism to say that all Jewish folksong genres are in a state of flux; more meaningful questions relate to the type of changes being made and the degree to which songs today are different from – or similar to – songs in the past.
F 1. In Israel
Here are online articles dealing with the vast and vibrant culture of popular songs in Hebrew (a subject which is not dealt with on this site).
In Israel, both Yiddish and Ladino (as well as other "ethnic" music) are coming to life after being completely suffocated by the explicit national policy to create a hegemonical "Israeliness" of language and culture. Here, and probably in the rest of the world, there are both conservative and generative forces at work.
Most people who enjoy listening to either Yiddish or Ladino folksongs identify closely with their ethnic origin and seek opportunities to hear the music. They would probably be native speakers or at least have heard the language spoken at home, and they'd go to clubs where they could experience aspects of a culture being brought to life in an entertaining and informative way on the stage in front of them.
F 2. In the US and Europe
[coming soon]

G. Jewish Languages
Which language is older: Yiddish or Ladino? Which is spoken by more people? How many people speak Jewish languages today, and how many used to? How many Jewish languages are there? Is "Jewish English" a language or a dialect?
Here is a brief definition of Jewish languages. For a fascinating look at the history, linguistic descriptions, and status of Jewish languages today, I highly recommend the Jewish Language Research Website. In addition, Omniglot provides intriguing accounts of the writing systems of these languages. It is becoming fashionable to write about Yiddish language: one example is "Born to Kvetch" by Michael Wex. If you enjoy reading tidbits about language, join me in my weekly visits to Philologos. (Popular writing in and about Ladino seems to be less dynamic than the Yiddish scene at present, but I suggest you look at the American Sephardi Federation for updates or at sites listed in the Hebrew or English links). If you'd like to learn a Jewish language, you could do so with the Oxford School of Rare Jewish Languages (OSRJL), where you might be interested in Judeo-Arabic, Judeo-French, Judeo-Greek, Judeo-Italian, Judeo-Aramaic, Judeo-Persian, Judeo-Tat, Judeo-Turkish, Karaim, Ladino and Yiddish.
According to the UNESCO Red Book on Endangered Languages, both Yiddish and Ladino are "seriously endangered". This is a moot point: people are always arguing to which extent they're still alive or whether or not they're already dead! Examples of continuing signs of life include a large number of internet sites as well as the Yiddish daily Forverts and the Ladino weekly Salom. There's no question, however, that songs in both languages are definitely undergoing a revival.
References
Fishman, J. (2001). Can Threatened Languages Be Saved? Multilingual Matters.
Kafrissen, R. (2008). Yiddish: the living language of the Jewish people. Steinhardt Foundation for Jewish Life.
Kushner, A. Ladino today. My Jewish Learning.
Roumani, J. (2012). The story of Ladino: From roots to branches. Sephardic Horizons, Vol.2, Issue 3.
Rozovsky, L. Will Ladino rise again? Chabad.Org
Somekh, S. Arabic as a Jewish language (Parts 1-3). Sephardic Horizons, Vols.I-III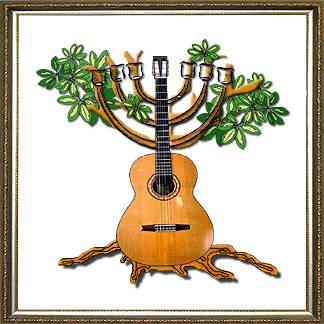 H. Links and References
Videos
Online articles
Books on Jewish music
Music in the Holocaust
Song Collections
Jewish Music Websites
1. Videos
"Israel Musical Heritage Project: A People and its Music", produced by by Tzipora Jochsberger. The following videos are freely accessible from the Spielberg Virtual Cinema (search for each video separately):
Israel: Sounds in search of a home
Europe: Toward the 20th century
Italy: Salomone Rossi - between worlds
Toward Jerusalem [7 Jewish ethnic groups - Part I]
One day the heart opens [7 Jewish ethnic groups - Part II]
Hassidic music
Morocco: Music of the Jews from North Africa
Teiman: Music of the Yemenite Jews
Ashkenaz: Music of the Jews from Eastern Europe
Sepharad: Music of the Sephardic Jews
Here's a list of Jewish Music Documentaries (posted by Teruah in January, 2011)
2. Online Articles on Jewish Folk Music
2a. Online journals (free)
Journal of Synagogue Music - Free journal, packed with interesting articles, not necessarily limited to synagogue music
Living Traditions - Klezkamp Zhurnal
Sephardic Horizons - Mostly about Sephardic culture, including a few articles on music and musicians
2b. Jewish Music in general
Denburg, M. (1995). Jewish Music – An Overview.
Gluck, B. (1997). Jewish Music or Music of the Jewish People? The Reconstructionist, 34.
Kaston, N. (1993). Jewish Languages, Jewish Songs. Canadian Folk Music, 27,4.
Klezmershack: Links to Articles on the Internet.
Knapp, A. What is Jewish Music?
2c. Sephardic Music
Aksoy, B. A great voice of Ottoman, Turkish and Jewish music - Rabbi Izak Algazi Efendi. Turkish Music Portal.
Anahory-Librowicz, O. (1993). Expressive modes in the Judeo-Spanish wedding song. In Y.K. Stillman & G.K. Zucker (Eds). New Horizons in Sephardic Studies. SUNY Press.
Armistead, S. (1998). Oral literature of the Hispanic world.
Armistead, S. Oral literature of the Sephardic Jews.
Armistead, S. & Silverman, J.S. (1987). The Judeo-Spanish ballad tradition. Oral Tradition, 2/2-3.
Cohen, J. (1987). "Ya salió de la mar": Judeo-Spanish wedding songs among Moroccan Jews in Canada. In Koskoff, E. (Ed.). Women and Music in Cross-Cultural Perspective. Illini Books.
Cohen, J. (2010). Judeo-Spanish song: a Mediterranean-wide interactive tradition. Revista Transcultural de Musica/Transcultural Music Review, vol.14
Cohen, J. (2003). Sephardic song. Midstream.
Cohen, J. (Winter, 2001). Clearing up Ladino, Judeo-Spanish, Sephardic Music. HaLapid.
Cohen, J. Sephardic Songs. Hagshama. World Zionist Organization.
Cohen, J. (1987). The lighter side of Judeo-Spanish traditional song: Some Canadian examples. Canadian Journal for Traditional Music.
Cohen, J. Wandering along the roads of Sephardic and crypto-Jewish musical traditions. Sefarad.org.
Cohen, J. & Bresler, J. (2009). "The Music of the Sephardim". Early Music America, 15, 4.
A colloquy on Sephardic music. (2012). The Boston Music Intelligencer.
Madsen, C. In Search of Sephardic Music. Klezmershack.
Seroussi, E. (1993). New Directions in the Music of the Sephardic Jews, in Mendelsohn, E. Ed., Modern Jews and Their Musical Agendas, Studies in Contemporary Jewry 9, London & New York, pp.61-77.
Mushabac, Jane. (2013). Seven songs, seven identities: Bridging the past and the future. Sephardic Horizons. Vol. 3, Issue 2.
Seroussi, E. (1998).De-gendering Jewish music: The survival of the Judeo-Spanish folk song revisited
Sephardic Music website:Early Sephardic Repertory; Modern recordings
Tasat, R. (2001). Sephardic music today. An artistic perspective. Semana Sepharad.
Waks, D.A. (2013). Cultural exchange in the literatures and languages of medieval Iberia.
Weich-Shahak, S. Romancero, Coplas and Cancionero: Typology of the Judeo-Spanish repertoire. The National Library of Israel.
I - The Romancero
II - The Coplas
III - The Cancionero
Yurchenco, H. A.In their Own Voices: Women in the Judeo-Hispanic song and story
Zucker, G.K. Some considerations in the Sephardic treatment of the romancero.
הלד, מיכל. בין הנהר לים - ניתוח תרבותי ספרותי רב רבדי של שיר חתונה יהודי-ספרדי מהאי רודוס.
Mlotek, Chana E. (2005). [Yiddish] Folk Songs. The YIVO Encyclopedia of Jews in Eastern Europe.
Rothstein, R.A. [Yiddish] Songs and Songwriters. The YIVO Encyclopedia of Jews in Eastern Europe.
Rubin, J. E. & Ottens, R. (2005). Shalom Comrade! Yiddish Music in the Soviet Union 1928–1961. Accompanying text to disk.
Veidlinger, J. Klezmer and the Kremlin: Soviet Yiddish Folk Songs of the 1930s. Muzykalia VII - Judaica 2 (originally published in Jews in Eastern Europe, spring 2000).
2d. Popular Hebrew songs
Cohn-Zentner, N. (2008). From Hava Nagilla to Hip-Hop: The Soundtrack of Israel. Reform Judaism Online.
Mitnick, J. Israeli popular music. My Jewish Learning.
Seroussi, E. & Regev, M. (2004). Popular music and national culture in Israel. University of California Press.

3. Books on Jewish Music
Here is a selective bibliography of books in English on the subject of Jewish music. Annotations are by Beth Dwoskin, Librarian.

Edelman, Marsha Bryan. Discovering Jewish Music. Philadelphia: Jewish Publication Society 2003.
This books goes for range and accessibility. It includes a CD with musical illustrations of many of the examples given in the book.

Eisenstein, Judith Kaplan. Heritage of Music: The Music of the Jewish People. Wyncote, PA: The Reconstructionist Press, 1990, c1981.
This book is primarily composed of musically notated examples of Jewish music. It is in songbook format, with a spiral binding for easy piano placement. It predates the klezmer revival. It is intended for young readers and has a pedantic tone, though the textual material can be complex.

Gradenwitz, Peter, 1910-. The Music of Israel: From the Biblical Era to Modern Times. 2nd ed., rev. and expanded. ed. Portland, Ore.: Amadeus Press, c1996.
This book emphasizes the roots of European cantorial and liturgical art. It has historic illustrations.

Heskes, Irene. The Resource Book of Jewish Music: A Bibliographical and Topical Guide to the Book and Journal Literature and Program Materials / Compiled by Irene Heskes., Music Reference Collection ; No. 3. Westport, Conn.: Greenwood Press 1985.
This is a comprehensive and exhaustive bibliography on the subject of Jewish music to 1985. It meets every requirement for a top-notch bibliography. Its parameters are clearly stated, its organization is logical, it has an author and a topical index, and it has lengthy annotations. It not only lists music periodicals, but also gives the contents of each volume. Besides its age, its only disadvantage is that it is printed in an antiquated, sans serif computer-output font, making it rather hard to read. It is a starting point for anyone planning to do serious research.

Heskes, Irene. Passport to Jewish Music: Its History, Traditions, and Culture., Contributions to the Study of Music and Dance; No. 33. New York: Tara, c1994.
This book is distinguished for its breadth. It begins not with the birth of Jewish music, but with the birth of Jewish music historiography. It touches on all the important points and major figures in Jewish music, and is unique in including a chapter on Jewish women and liturgical music.

Idelsohn, A. Z. (Abraham Zebi), 1882-1938. Jewish Music: Its Historical Development. New York: Dover 1992. Reprint, Schocken, 1967.
This book is by the premier Jewish musicologist, A.Z. Idelsohn. Although it is somewhat technical and academic in style, it is worth having for the sake of its authority and its low price in this reprint edition. It is organized by historical development, so readers can go right to the period that interests them. It was first published in 1929.

Isaacs, Ronald H. Jewish Music: Its History, People, and Song. Northvale, NJ: Jason Aronson, c1997.
This book traces the presence of music in the Bible, and its link to the cantorial tradition. It is sketchier and more dated in its treatment of modern Jewish music.

Nulman, Macy. Concise Encyclopedia of Jewish Music. New York: McGraw-Hill, c1975.
This core reference work has critical historical information. It is out of print, but you should be able to find it on the OP websites.

Regev, Motti., & Seroussi, Edwin. Popular music and national culture in Israel. Berkeley: University of California Press, 2004.
This is the most thorough and comprehensive treatment of this subject in one place. Its approach is ethnomusicological as well as historic. It has a discography and four indexes.

Rogovoy, Seth. The Essential Klezmer: A Music Lover's Guide to Jewish Roots and Soul Music, from the Old World to the Jazz Age to the Downtown Avant-Garde. Chapel Hill: Algonquin Books, 2000.
Half this book is a comprehensive discography of the state of the klezmer renaissance in 2000. It is has a historical overview of the music, and the writing style is accessible and high-quality.

Rothmuller, Aron Marko. The Music of the Jews: An Historical Appreciation. New York: The Beechhurst Press, 1954.
This book focuses on liturgical music and its Biblical roots. The Croatian-born author cites many European works and includes a glossary of musical terms from the Psalms.

Rubin, Emmanuel & Baron, John H. Music in Jewish History and Culture. Harmonie Park Press, 2006. [Recommended by Judith Pinnolis]

Rubin, Ruth. Voices of a People: The Story of Yiddish Folksong. Urbana: University of Illinois Press, 2000.
This is the definitive work in English on the text of Yiddish folksongs. Rubin collected songs from European-singers and explained their background in this book. She provides notation for selected songs, but the focus is on the texts. There are extensive notes, bibliography, and index.

Sapoznik, Henry. Klezmer! Jewish Music from Old World to Our World. New York: Schirmer Books c1999.
This is a very personal account of the klezmer revival in America by one of its leaders, musician Henry Sapoznik. The book is especially rich in the history of recorded and filmed Jewish music.
Sheleman, Kay Kaufman. A Song of Longing. [Music in the Ethiopian Jewish community]

Sheleman , Kay Kaufman. Let Jasmine Rain Down. University of Chicago Press. [Music and memory among Syrian Jews].

Shiloah, Amnon. Jewish Musical Traditions. Edited by Raphael. Patai, Jewish Folklore and Anthropology Series. Detroit: Wayne State University Press, c1992.
This book takes an ethnomusicological approach, looking at themes and traditions in Jewish music in their cultural contexts. It goes into great depth regarding Jewish music in the Moslem and Hasidic worlds and also looks at dance and piyyut.

Slobin, Mark. Fiddler on the Move: Exploring the Klezmer World. Edited by Mark. Slobin, American Musicspheres. Oxford: Oxford University Press, 2000.
This book looks at klezmer music from the viewpoint of ethnomusicology, rather than history. It looks extensively at the popularity of klezmer music in Europe. The accompanying CD has contrasting examples of songs from early recordings, and then the same songs updated by modern klezmer bands.

Slobin, Mark. Tenement Songs: The Popular Music of the Jewish Immigrants. Illinois Press, 1982.

Strom, Yale. The Book of Klezmer: The History, the Music, the Folklore. 1st ed. Chicago, Ill.: A Cappella, 2002.
This book benefits from the author's field research in Europe in the 1980's. In addition to a thorough bibliography and discography, it includes an appendix of references to klezmer in Yizhor books at the YIVO; an appendix of "klezmer-loshn" (jargon); and an appendix containing notations for some niggunim.

Weisser, Albert. The Modern Renaissance of Jewish Music: Events and Figures, Eastern Europe and America. Da Capo Press Music Reprint Series. New York: Da Capo Press, 1983.
Both the new Da Capo edition and the original Bloch edition of this book are out of print. Libraries that have either edition should hold on to it. It is has a thorough history of the Society for Folk Music in St. Petersburg.
4. Music in the Holocaust
4a. Music in the Holocaust - Selected Disks
Ballads and Broadsides: Songs from Sachsenhausen Concentration Camp 1940-1945. US Holocaust Memorial Museum
Ghetto Tango: Wartime Yiddish Theater - Adrienne Cooper and Zalmen Mlotek.
Hidden History of the Kovno Ghetto. United States Holocaust Memorial Museum.
Krakow Ghetto Notebook. Mordechai Gebirtig's Song-Poems. US Holocaust Memorial Museum
Song of the Lodz Ghetto - Brave Old World
Tangele: the Pulse of Yiddish Tango - Lloica Czackis, J.L. Aisemberg, G. Beytelmann
Yiddish songs of the Holocaust - Lecture/Recital by Ruth Rubin
Siniza i fumo: In memorium of the Jews of Saloniki - Avner Perez & Daniel Akiva
4b. Music in the Holocaust - Sites
"Heartstrings" - Music of the Holocaust (Yad Vashem)
Music and the Holocaust (Ort)
Music and the Holocaust (YIVO)
Music of the ghettoes and camps (FCIT)
The Stonehill Jewish Song Collection (songs recorded by Holocaust survivors)
United States Holocaust Memorial Museum

4c. Music in the Holocaust - Song Collections

Gotlib, M. un Mlotek, H. (1968). 25 geto-lider mit muzik un transliteratsye.Workman's Circle.
Kalisch, S. & Meister, B. (1985). Yes We Sang! Songs of the ghettos and concentrations camps. Harper & Row.
Pasternak, V. comp. (2003). Songs Never Silenced (based on Lider fun der getos un lagern) Tara Music.
Silverman, J. (2002). The Undying Flame: ballads and songs of the Holocaust. Syracuse University Press.
4d. Music in the Holocaust - Books
Aaron, F. (1990). Bearing the Unbearable: Yiddish and Polish Poetry in the Ghettos and Concentration Camps. State University of New York Press.
Flam, G. (1992). Singing for Survival: Songs of the Łódź Ghetto 1940-1945. University of Illinois Press.
Gilbert, S. (2005). Music in the Holocaust: Confronting life in the Nazi ghettos and camps. OUP.
Levy, Isaac (Compiler & translator) (2000). And the World Stood Still: Sephardic Poetry of the Holocaust. Illini Books.
4e. Music in the Holocaust - Online Articles

Werb, Bret. (2014). Yiddish Songs of the Shoah: A Source Study Based on the Collections of Shmerke Kaczerinski. UCLA: PhD Dissertation
---