Jewish Festivals
Akh, vi voyl s'iz tsu zayn a yid! [How good it is to be a Jew!]

Songs about the Jewish festivals reflect many different aspects of life in the Diaspora: customs and traditions, religious practice, folklore and legends, and, not least, food - such as the loving descriptions of festive foods in the song "Akh vi voyl" above. The subjects of the songs may be realistic or metaphorical, and the festivals are often simply a framework for singing about different aspects of life; see, for example, the vast range of meanings that the "tree of life" represents.

Here are the festivals which are covered in the lectures:
| | |
| --- | --- |
| Shabbat | Shabbat is a songfully joyous festival, and it comes around 52 times a year! |
| Hanukkah | Take a quiz and come to the lecture for the answers. Also - a bonus quiz for Internet addicts! |
| Tu Bishvat | Two pages: 1) The "tree of life" 2) The festival of Tu Bishvat |
| Purim: | Eat, drink and be merry! |
| Pesach | What is the significance of the kid in this kids' song? |
| Shavuot | The songs reflect the many faces of this festival: revelation, sacred marriage, harvest festivities - and cheese cake! |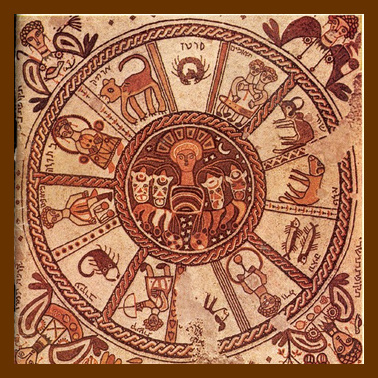 [Mosaic pavement of a 6th century synagogue in Beit Alpha, Israel]
* * * * *
Here is a list of sites containing information about Jewish festivals, arranged according to alphabetical order. All denominations are included. Suggestions regarding additional sites are welcome. Sites in Hebrew are here.
Eliezer Segal. Around the Calendar
Hanefesh. National Assembly of Jewish Students
JAFI – Jewish Agency for Israel. Dept. for Jewish Zionist Education
JDC. Joint Distribution Committee
Jewish Heritage Online Magazine
Jewish Life. United Jewish Communities
United Synagogue of Conservative Judaism
---
---